24 May 2023 | Captain Rex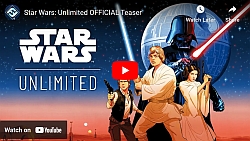 Get ready to strap into your X-Wing and jump to lightspeed! The first teaser trailer for the upcoming Star Wars: Unlimited trading card game has been released... [more]
23 May 2023 | Captain Rex
The Galaxy Reimagined: Fantasy Flight Games Unveils Star Wars: Unlimited – An Unprecedented Trading Card Game Experience
Prepare to jump to lightspeed, Star Wars fans and trading card game (TCG) enthusiasts! Today, we delve deep into the heart of the brand-new Star Wars: Unlimited, announced by Fantasy Flight Games and Lucasfilm earlier this month. We're ready to share more details about this thrilling addition to the world of strategic trading card games. In a blend of immersive storytelling, innovative gameplay, and breathtaking artistry, this game promises to be nothing short of an epic journey.
Described as a card game of unlimited possibilities, Star Wars: Unlimited sets the stage for an entirely fresh take on strategic trading card games. Its promise to deliver three new sets each year is a testament to the game's commitment to ongoing, evolving gameplay, ensuring that players have fresh content and strategies to explore on a regular basis.
Infinite Strategies, Infinite Adventures
Star Wars: Unlimited boasts an exciting, strategic gameplay structure. The goal is simple at its core - obliterate your opponent's base before they can do the same to you. However, with over 200 cards in the initial set—Spark of Rebellion—alone, the potential strategies and combinations are vast, providing limitless possibilities for gameplay.
The game's intricacies don't stop there. Every turn is a head-to-head exchange, where players perform actions such as playing cards, activating abilities, or launching attacks with their units. These actions create an unpredictable and ever-changing game dynamic that challenges players to adapt their strategies on the fly.
Two Fronts, One Galaxy
A truly unique feature of Star Wars: Unlimited is the division of gameplay into two arenas: ground and space. This dynamic means every battle unfolds on two separate fronts, bringing additional depth and complexity to the game. This dual-layer strategy forces players to carefully consider where and when to deploy their resources, enhancing the suspense and excitement of each battle.
The Leader Cards, representing iconic characters like Luke Skywalker and Darth Vader, add yet another layer of strategy to the game. They possess abilities that can influence any unit, no matter the arena, introducing a game-changing element that can tip the scales of battle.
A Community for Every Player
One of the most promising aspects of Star Wars: Unlimited is its ambitious Organized Play structure. The structure caters to all types of players, from those seeking a casual, fun experience to those looking for a high-stakes, competitive environment.
The Casual Play events will be all about the joy of the game and community building. These events, including prerelease events, weekly play, and Store Showdowns, are designed to be welcoming to new players and a playground for veteran players to test new strategies.
On the other hand, the Competitive Play events are designed for those players seeking to test their mettle against the best. These events offer a fair and intense environment where players can put their skills and strategies to the ultimate test. High performing players can accumulate tournament points tied to their profile on the Star Wars: Unlimited official website and even earn an invitation to the grand Star Wars: Unlimited Galactic Championship!
A Whole New Look at the Star Wars Galaxy
A key highlight of Star Wars: Unlimited is its fresh, innovative art. Each card in the game features original art, commissioned specifically for this project. The unique, cohesive style adds a new depth to the Star Wars universe, bringing to life the legendary characters and settings in a fresh and engaging way.
The Future of Star Wars: Unlimited
Star Wars: Unlimited is undoubtedly a major milestone for Fantasy Flight Games. The development team's commitment to the game's continuous growth is evident in their plan to release three new sets every year. This consistent stream of new content will ensure that the game always stays fresh, interesting, and full of possibilities. Whether you are a casual player who enjoys the thrill of opening a new pack and discovering new cards or a seasoned competitor looking for new strategies and mechanics to master, these regular releases promise to keep the game engaging and exciting for all.
The team at Fantasy Flight Games is striving to make Star Wars: Unlimited the most comprehensive Star Wars card game experience to date. From including characters, settings, and ships from all facets of the franchise—movies, TV series, comics, video games, and more—to ensuring a seamless integration of organized play into the very DNA of the game, the dedication to delivering a phenomenal player experience is evident in every aspect of this game.
The level of detail and thought invested in designing Star Wars: Unlimited is clearly massive, but what stands out is the team's commitment to accessibility. Regardless of whether you are a beginner to TCGs or a seasoned veteran, a casual player or a serious competitor, a Star Wars superfan or a newbie to the franchise, there is a place for you in Star Wars: Unlimited. The game's straightforward mechanics, combined with its deep strategic possibilities, promise to deliver a fulfilling and fun experience to players of all types.
There's no doubt that Star Wars: Unlimited is set to make a huge splash in the TCG world. Its exciting gameplay mechanics, stunning new art, and robust organized play structure all combine to create a truly unique and promising game. Whether you're excited to play as your favorite Star Wars characters, looking forward to the thrill of building and refining your deck, or can't wait to compete in tournaments, the wait for 2024's global launch promises to be worth it.
As we look forward to the release of the inaugural set, Spark of Rebellion, we can only imagine the thrilling games, the close-call matches, and the lasting friendships that will be formed through Star Wars: Unlimited. As Fantasy Flight Games puts it, this game is their biggest project to date, and they can't wait to show us more. So, fellow gamers, get ready! The galaxy, as you know it, is about to expand beyond your wildest dreams.
13 April 2023 | Captain Rex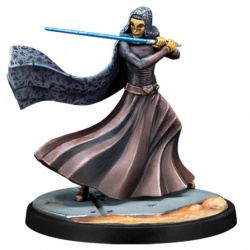 Due Q2 2020
Barriss Offee will be joinging Shatterpoint in July 2023 along with her Jedi Master General Luminara Unduli...
12 April 2023 | Captain Rex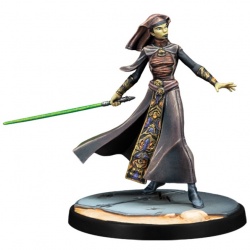 Due Q2 2020
General Luminara Unduli will be coming to Shatterpoint in July, along with her padawan and 2 clone commandos...
10 April 2023 | Darth Maul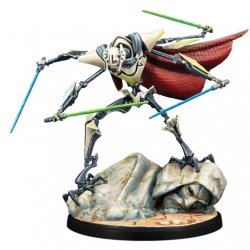 Due Q2 2020
General Grevious will be coming to Shatterpoint in July, along with a few friends!
14 March 2023 | Captain Rex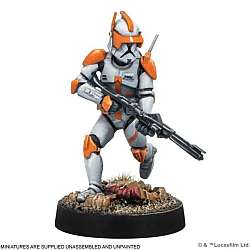 Due Q2 2020
Now Cody will be available as a commander expansion for the Galactic Republic, along with Clone Troopers Waxer and Boil of Ghost Company!
10 March 2023 | Captain Rex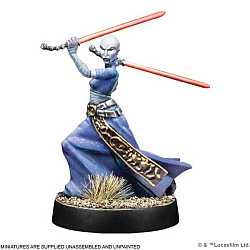 Due Q2 2020
Now Asajj will be available as an operative for the Separatist Alliance in Star Wars Legion (Clone Wars)...
9 March 2023 | Captain Rex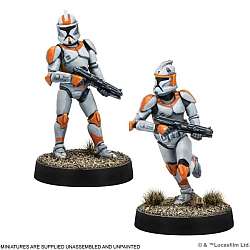 Due Q2 2020
Clone Troopers Waxer and Boil will be available for Star Wars Legion, as they are included with the Commander Cody expansion pack!
27 November 2022 | Captain Rex
In November news dropped that Atomic Mass (who have taken over Star Wars Legion from Fantasy Flight Games) released a new teaser trailer, showing the Star Wars: Shatterpoint which is a new games system coming in 2023.
Further details [read more]...
3 April 2022 | Darth Maul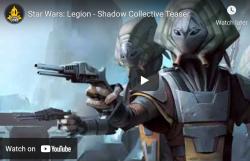 In September last year Atomic Mass (who have taken over Star Wars Legion from Fantasy Flight Games) released a new teaser trailer, showing the Shadow Collective, which is a "Crime Syndicate" faction for Star Wars Legion.
Yesterday (4th April 2022), they launched further details of the specific upcoming products [read more]...